Becoming a data provider
Who can submit data to Dandjoo?
BIO welcomes submissions from all organisations and individuals with expertise in biodiversity data collection.
We anticipate that the majority of our data providers will be:
State and Federal government agencies
Local governments
Private industry (e.g. resources and energy companies, environmental consultants, and developers)
Universities and other research organisations
Biodiversity collections managers (e.g. museums and herbaria)
Not-for-profit organisations involved in conservation work
If you are not in one of these categories but do have high-quality data to contribute, please contact us. Our curatorial staff will be happy to discuss your data and assess whether it will be suitable for ingestion. However, do note that we are unable to accept one-off, individual sightings from members of the public at this time - if you have citizen science data to share, consider submitting it to a community platform such as iNaturalist or eBird.
What types of data does Dandjoo accept?
BIO currently accepts species observation data, systematic survey data, and vegetation association data. For more information on these data types, see the 'Preparing your data for submission' section of this toolkit. Our initial focus is on medium-to-large datasets, but also welcome smaller data sets that are of high quality.
How do I register as a Data Submitter?
You must register for a Data Submitter account to provide data to Dandjoo. Registering allows BIO to tag future submissions from the same provider, and ensure your data custodianship is recognised. It also allows our curators to provide you with data quality feedback, and contact you with any questions about your submission.
To register for a Data Submitter account, please follow these steps:
Select "Account request" in the Topic dropdown.
Fill out the following fields:

Name
Organisation
Job title
Email
Telephone

 

 Add a comment to let us know why you would like to register.
Click 'Send Message' to submit your application.
Your request will be received by BIO and processed as quickly as possible. Our curatorial team will contact you if BIO has any further questions about your registration.
How do I log in?
Once BIO has approved your registration request, you will receive an email with your username (the email address provided in your application) and a temporary password. To log in, follow these steps:
Log in to your email account and check that you have received an email from us (BIO@dbca.wa.gov.au) confirming that your account has been created:
Image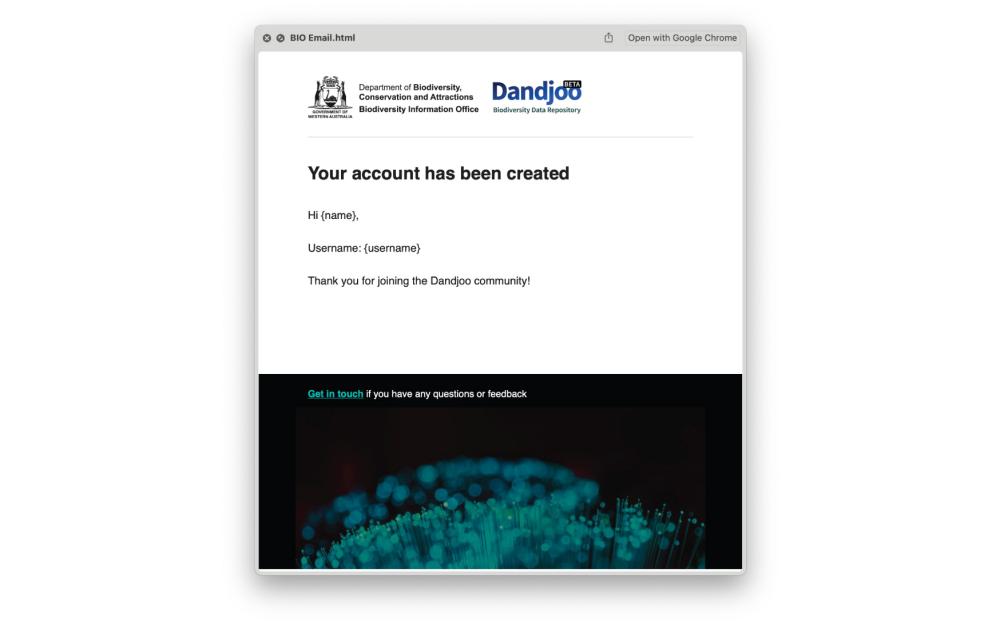 Visit the Dandjoo homepage and click on 'Login' in the top left corner:
Image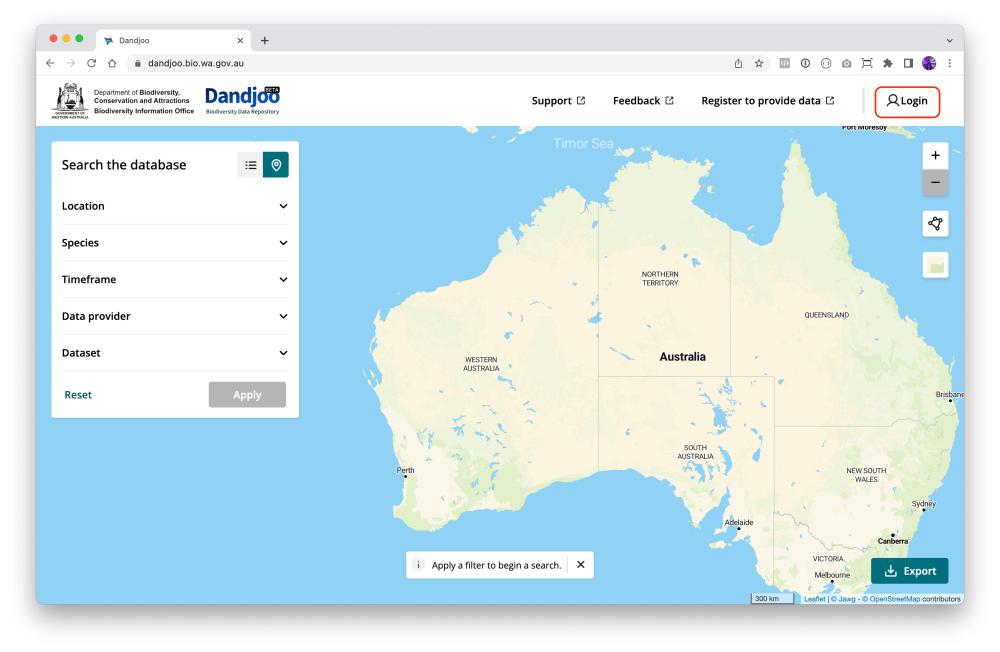 You will then be forwarded to the Department of Biodiversity, Conservation and Attractions sign-in page.
Choose the option "Passcode sent by email":
Image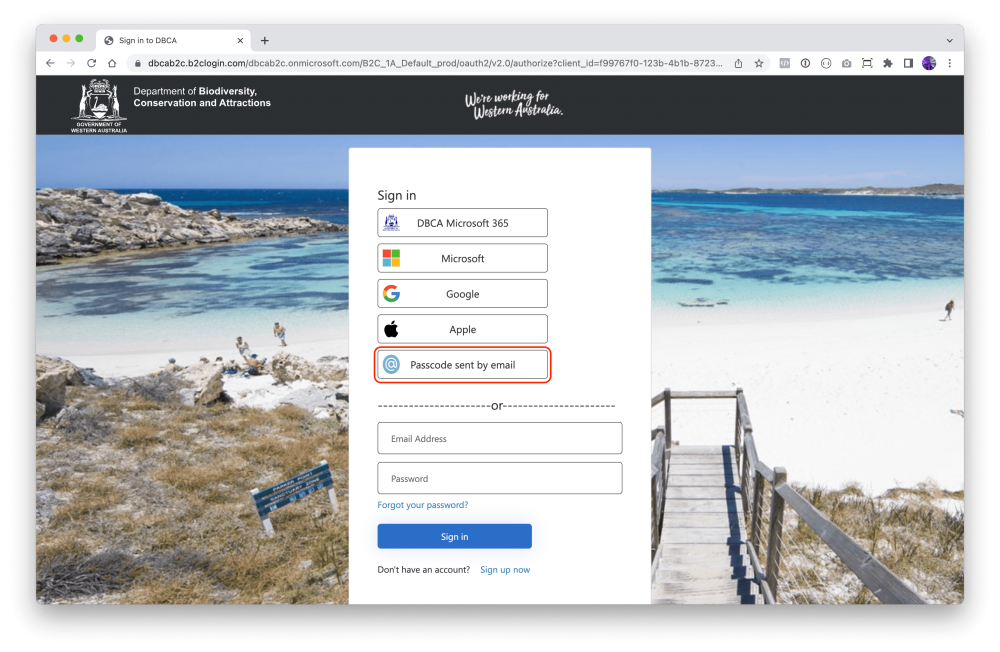 Type in your email address and click 'Submit'.
Image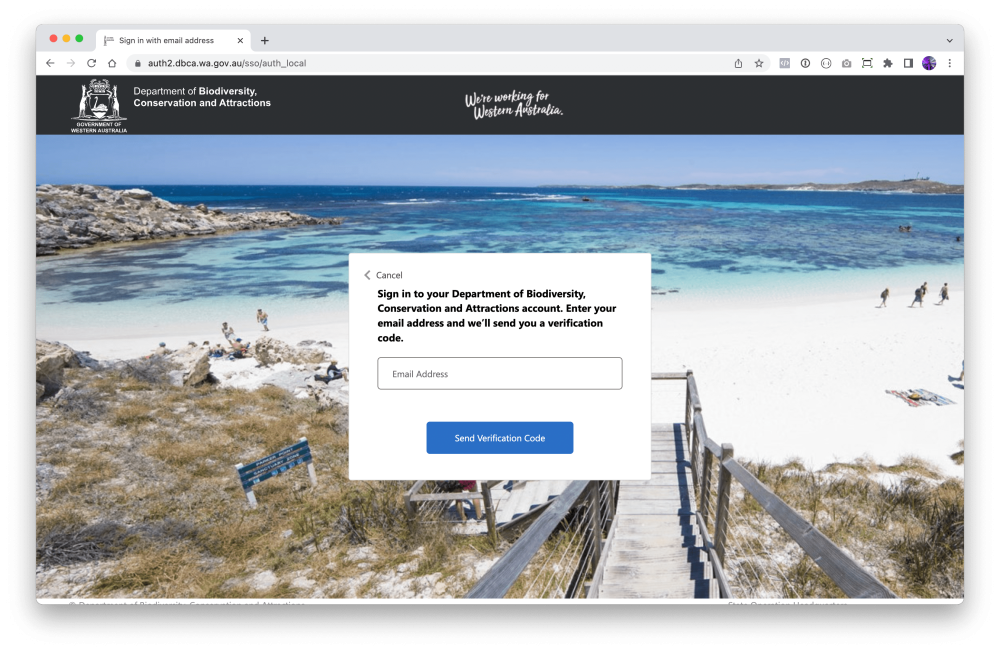 Check your inbox for an email from the Department of Biodiversity, Conservation and Attractions (noreply@dbca.wa.gov.au) with your session passcode.
Copy and paste the session code into the verification dialog that has opened in your browser, then click 'Verify Code':
Image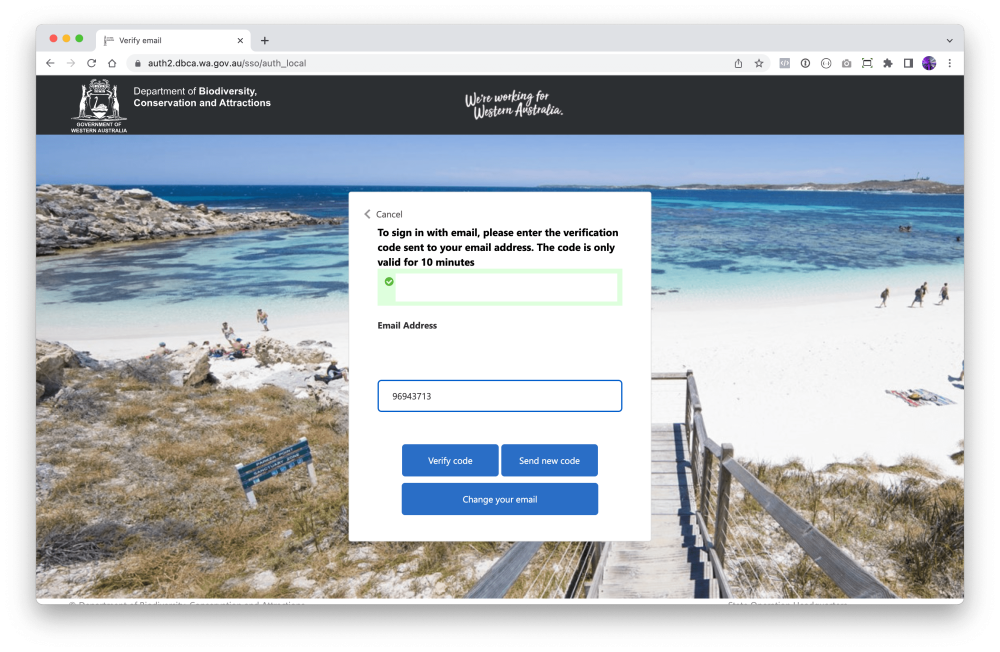 Once verified, you will be redirected to the Dandjoo home page. You can now access the Data Submission portal:
Image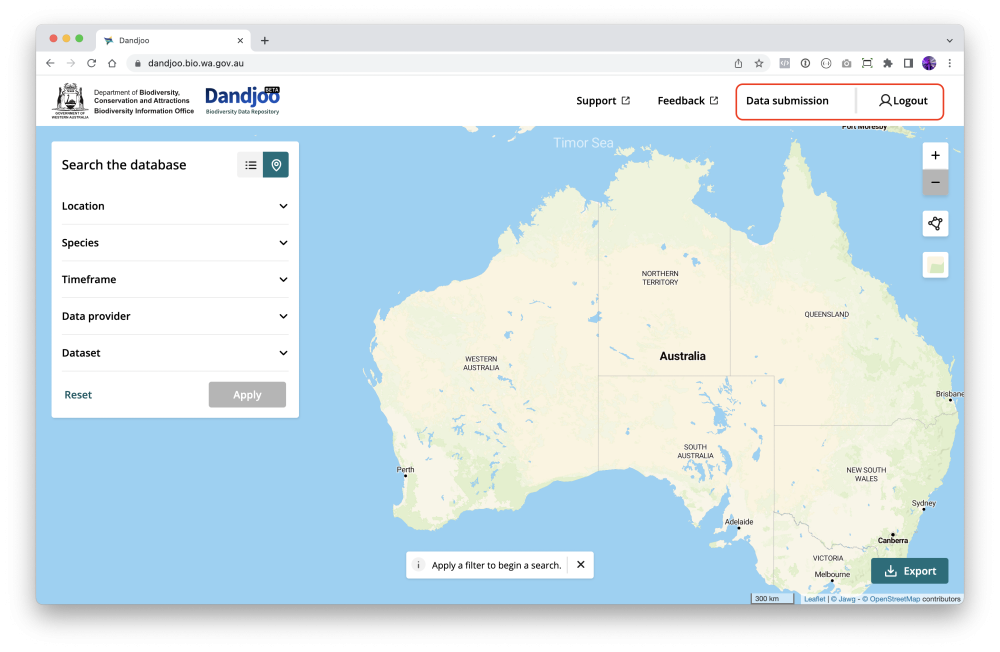 Chapter from guidelines, services and standards
Join the BIO newsletter and get updated first
Sign up for access to the latest developments at the Biodiversity Information Office, upcoming Dandjoo features, and our newest datasets.
Image