Biodiversity Information Office
Summary
Making it easy to share and discover high-quality biodiversity data from government, industry and the research sector.
About the Biodiversity Information Office
The Biodiversity Information Office (BIO) is responsible for making Western Australian biodiversity data more discoverable, accessible, and useable.  To deliver this change, BIO has developed the Dandjoo biodiversity data platform to mobilise data from all environment-related sectors, including government, industry, research, and the community.  BIO's day-to-day work also includes a program of data-sharing and outreach work, identifying and sourcing priority datasets for release.
BIO is hosted by the Department of Biodiversity, Conservation and Attractions and works in partnership with the Commonwealth Department of Climate Change, Energy, the Environment and Water (formerly Agriculture, Water and the Environment) as part of the cross-jurisdictional Digital Environmental Assessment Program.  In 2022 Western Australia became the first State to deliver data for the Commonwealth's new Biodiversity Data Repository as a part of this initiative.
BIO is central to Western Australia's long-term digital strategy for environmental assessment and approvals, supporting high-quality, efficient, and transparent decision-making with reliable data.  To allow this, Dandjoo has been designed to support seamless integration with other government platforms, including the Department of Water and Environmental Regulation's forthcoming Environment Online service.
The Dandjoo biodiversity data platform
Access high-quality Western Australian biodiversity data from from industry, government, and researchers, or share your data on the Dandjoo platform to make it available to a wider audience.
Image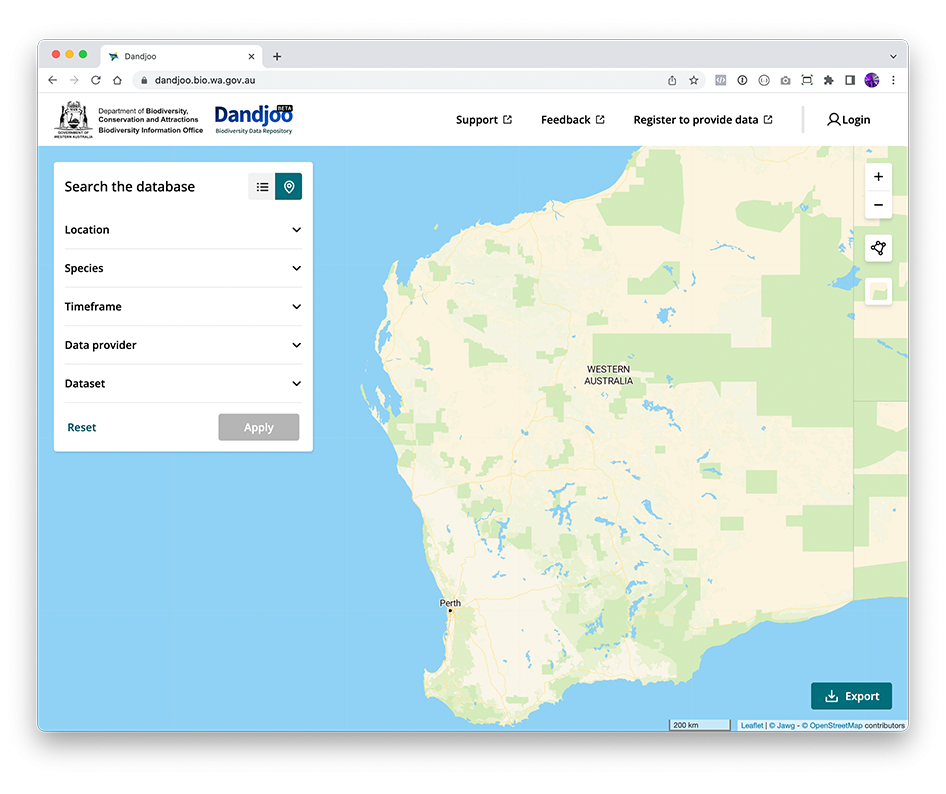 Guidelines, services and standards
Join the BIO newsletter and get updated first
Sign up for access to the latest developments at the Biodiversity Information Office, upcoming Dandjoo features, and our newest datasets.
Image