Part of Biodiversity Information Office
The Dandjoo interface
If you're using Dandjoo for the first time, check out the information below to learn more about the various elements of the Dandjoo desktop interface:
Image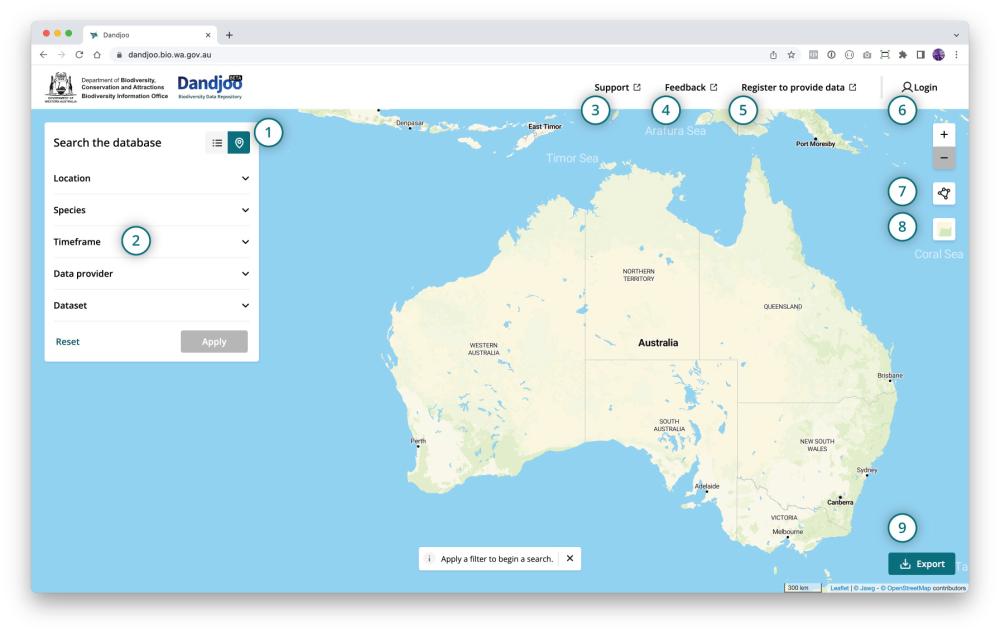 Toggle between map and table view: View search results on a map, or in a summary table.
Search filters: Use filters to narrow down your search by location, species, timeframe, data provider, or dataset. (See more at Searching Dandjoo.)
Get support: Check out our user and data provider documentation.
Provide feedback: Get in touch with us via our contact page.
Register to provide data: Sign up to become a data provider. (See more in our Data Provider Toolkit.)
Log in as a registered data provider: Visit the data submission interface if you are a data provider.
Draw your own search polygon or circle: Use our drawing tools to define your own search area.
Customise your map view: Change the base map or view additional layers. (See more at Map view and Table view.)
Export data: Download your search results as a .csv file or Shapefile. (See more at Downloading the data.)
Chapter from guidelines, services and standards
Join the BIO newsletter and get updated first
Sign up for access to the latest developments at the Biodiversity Information Office, upcoming Dandjoo features, and our newest datasets.
Image